PECVD Equipment
PECVD is achieved by introducing reactive gases between parallel electrodes. By applying a medium frequency or pulsed voltage between the electrodes, the reactive gases are excited into a plasma and chemical reaction is initiated. This low temperature process can be used to deposit silicon oxide-based layers for anti-reflective properties, as a barrier layer, or for corrosion protection. A range of coating materials is possible through a combination of process conditions and precursor selection. High dynamic deposition rates can be reached with the PECVD technology developed by AGC Plasma Technology Solutions.
AGC's plasma coating technology is driven by its advanced PlasmaMAX™ platform, which uses multiple linear hollow cathodes to enable the highest deposition rates in industry . This state-of-the-art plasma generation system has been designed by AGC scientists to deliver exceptional performance in large area coatings.
PlasmaMAX™ stands out as an industry-first PECVD (Plasma Enhanced Chemical Vapor Deposition) solution capable of mass production with an unprecedented substrate width of up to four meters. This wide coverage allows for the deposition of coatings on large-area substrates like those used in optical multilayer stacks, functionalized textiles, display technologies, and other related applications.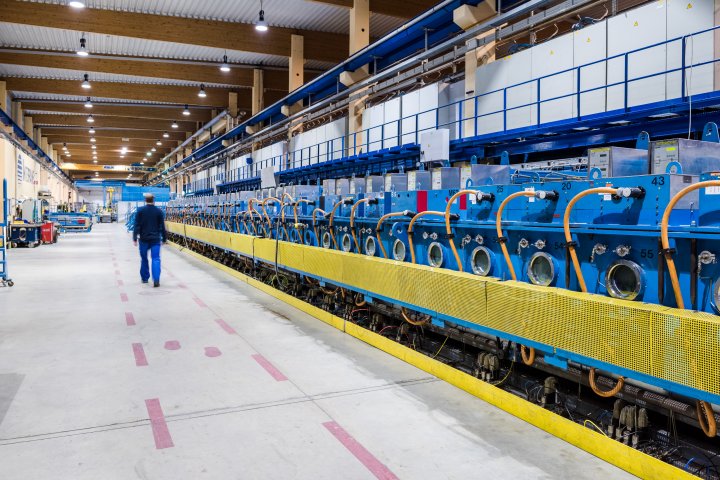 One key advantage of PlasmaMAX™ is its ability to ensure superior quality coatings. The system is engineered to minimize film stress, resulting in coatings with excellent mechanical properties and reduced risk of delamination or cracking. This is crucial for producing reliable and durable coatings in various applications.
Uniformity control is another standout feature of the PlasmaMAX™ PECVD platform. The system provides consistent and precise deposition control across the entire substrate width, which maximizes production yield.
PlasmaMAX™ is designed with process efficiency and mass production in mind. By enabling maximum deposition rates and accommodating large substrate widths, it optimizes production throughput while maintaining high-quality standards. This technology streamlines the manufacturing process, allowing for efficient and scalable production of coatings for various industrial applications.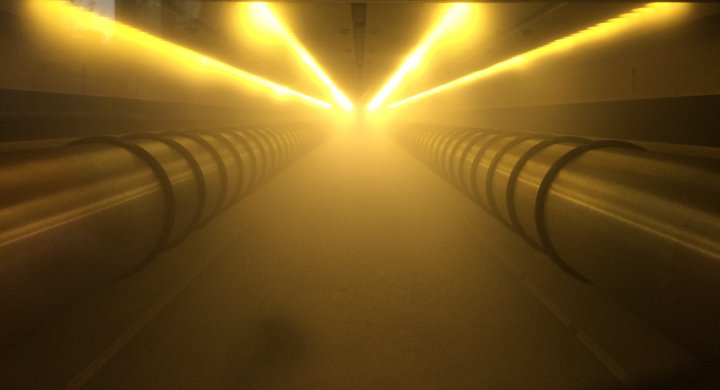 Inside the PlasmaMAX™ system, plasma generation is accomplished using pairs of monolithic hollow cathodes. These cathodes are driven by commercially available Mid-Frequency AC or pulsed-DC power supplies. The design of the cathodes is optimized based on advanced modeling of gas and plasma dynamics to achieve optimal performance and extended maintainability.
High-density plasma jets are generated through specially designed nozzles that are strategically located along the length of each cathode. The plasma jets are sprayed directly into the process area, ensuring highly efficient precursor utilization. For uniform coating deposition, reactive precursor gas is introduced into the process area through configurable distribution manifolds. This ensures that the coating material is evenly distributed across the substrate, leading to consistent and reliable coating thickness across the entire substrate width.
AGC's novel cathode design protects the plasma-generating surfaces from precursor contamination, thereby significantly extending the service life of the system. By minimizing contamination and maintaining clean plasma generation, the system can operate more reliably and consistently over time. This allows long production campaigns without the need to vent the coater system.
PlasmaMAX™ hollow cathodes feature an advanced protective coating that allows for the extended use of various process gases. These gases can include hydrogen, helium, nitrogen, argon, and even pure oxygen without the need for inert gas blending. This versatility in gas selection enables a wide range of deposition processes and applications.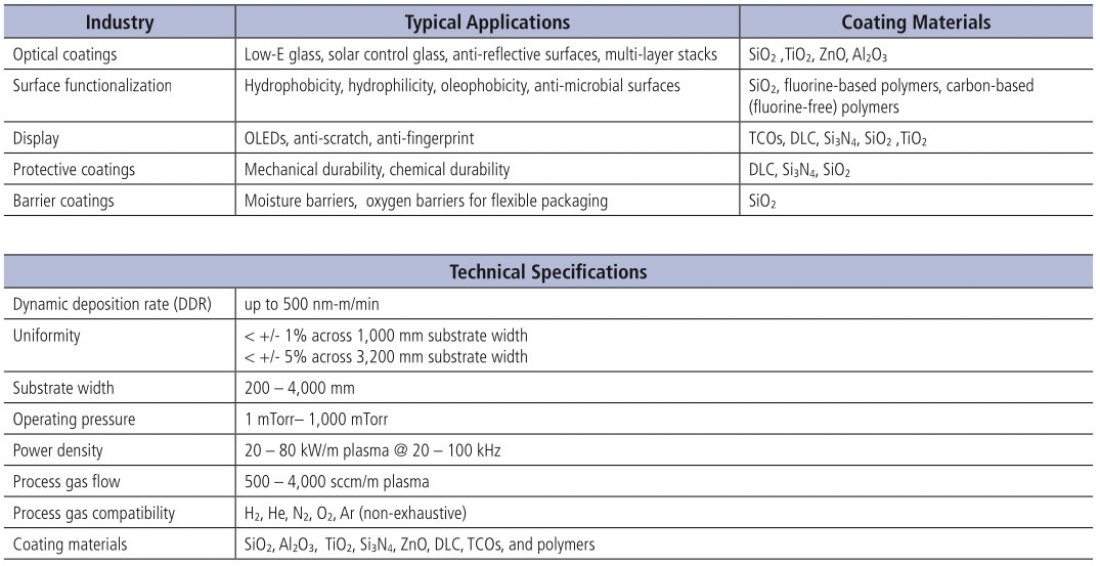 Features
Dynamic deposition rate (DDR) up to 10x higher than traditional PVD processes.
Creates thin-films with superior quality and mechanical durability
Largest substrate widths possible in industry for PECVD coatings with proven scalability to four (4) meters
Highest uniformity control for large area PECVD coating applications
Wide process stability range and customizable form factor enables in-line interoperability with most pre-existing CVD and PVD equipment platforms
Environmentally sustainable dry alternative to traditional resource-intensive wet processes.
Lowest total cost of ownership due to inexpensive consumables (10x less costly than PVD) and minimal required maintenance
Easy manipulation of pressure, precursor mixture, gas input ratio, and plasma power to precisely control properties like refractive index, optical clarity, film stress, adhesion, flexibility, hardness, and density
Coatings on wide range of substrate materials and forms
Long coating campaign lengths possible without the need to regularly vent system
Addition of magnets possible for optimization of plasma geometry
Plasma pre-treatment (without precursor) for promotion of subsequent coating adhesion